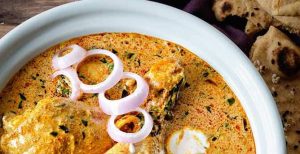 Ingredients:
1kg Chicken
2tbsp Garlic
Ginger paste
½ tbsp Red chilli powder
½ tbsp Turmeric powder
1 tbsp Cumin powder
½ tbsp Coriander powder
7 cloves
2 cinnamon sticks
10 black pepper
1 spoon black pepper powder
1 black cardamom
4 green cardamoms
half coconut
4 Onions big sliced
2 Tomato
100ml milk
50gm milk toned cream
2tbsp Kasturi Meethi
1tbsp vegetable oil
2tbsp butter
Salt according to taste
Marinated the chicken with adding, ½ tbsp turmeric powder, ½ tbsp red chilli powder, 1tbsp black pepper powder, 1tbsp ginger garlic paste, ½ tbsp salt.
for gravy need to grind the onions, tomatos, half coconut, 1tbsp Cumin powder, ½ tbsp Coriander powder, 1black cardamom, 4 green cardamons, 2 cinnamon sticks, and 1tbsp ginger garlic paste make a thick paste in mixture.
Heat 1tbsp vegetable oil and 2 tbsp butter in a big pan.
Add 7 cloves, 10 black peppers.
Saute for few seconds.Add the gravy paste and cook for 5 minutes until the coconut oil get separate in medium flame.
Add the marinated chicken mix well & cook for 3-4 mins in medium flame.
Add 100ml toned milk and salt according to taste & mix well.Now cover the pan for 10-12mins until chicken prepare and keep it in low flame.
Add the milk cream and 2 tbsp kasturi meethi powder & cook for another 1min in low flame.
Serve in a bowl and enjoy with paratha or hot steam rice.